KingsWay School is a co-educational, non-denominational Christian school with students from Year 1 through to Year 13. Our vision for KingsWay graduates is that they will be confident, connected, actively involved, lifelong learners who embody the Christian special character of the school.
We are a co-educational Christian school with 1500 students from Years 1 through to 13.

KingsWay School has established a reputation for producing outstanding academic results being amongst the top in the country.
The latest New Zealand Education Review Office report states Kingsway School has highly effective systems to maintain the quality of both education and pastoral care for international students.
Our educational programme is innovative, reflecting best practice and catering for a broad academic range.
Our Prospectus
KingsWay School has established a reputation for producing outstanding student outcomes, academic excellence, and a dynamic educational foundation for life.
OUTSTANDING 2020 NCEA RESULTS
As can be seen in the graphs below, KingsWay students have achieved significantly higher results in all aspects of NCEA compared to both Decile 8-10 schools and national results. We are extremely proud of our staff and students for showing such resilience in a tough COVID-19 disrupted year and achieving such outstanding results.
NCEA Percentage Pass Rate 2020
KingsWay's pass rates compared to Decile 8-10 schools and the national average.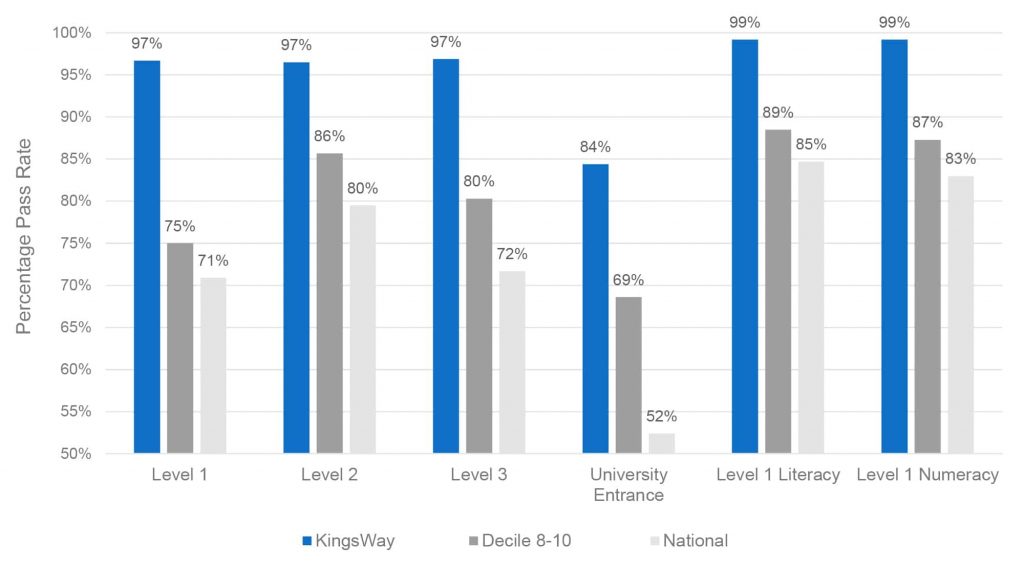 Value-added from Level 1 to Level 3
The historical percentage pass rate for the 2020 cohort of Level 3 students compared to Decile 8-10 schools and the national average.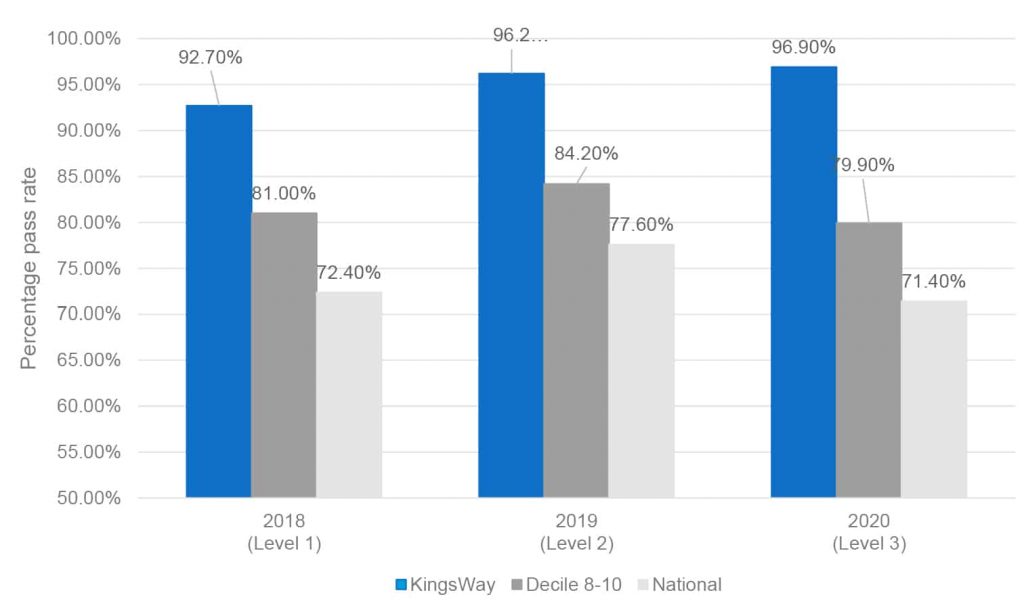 KingsWay School is located on the Hibiscus Coast and is surrounded by world-class beaches and areas of natural beauty. We are walking distance to a shopping mall, library and a variety of cafes and restaurants. The area is well serviced by a regular bus service with easy access to the greater Auckland area.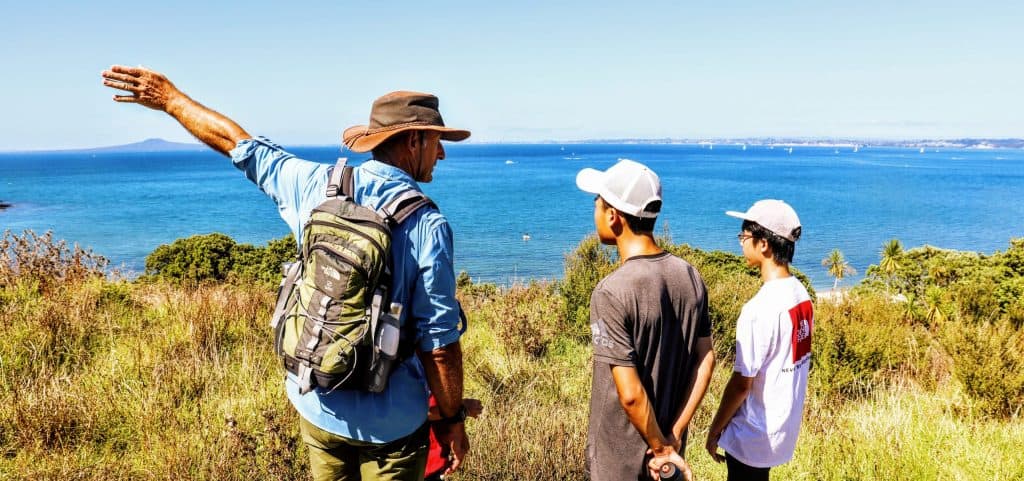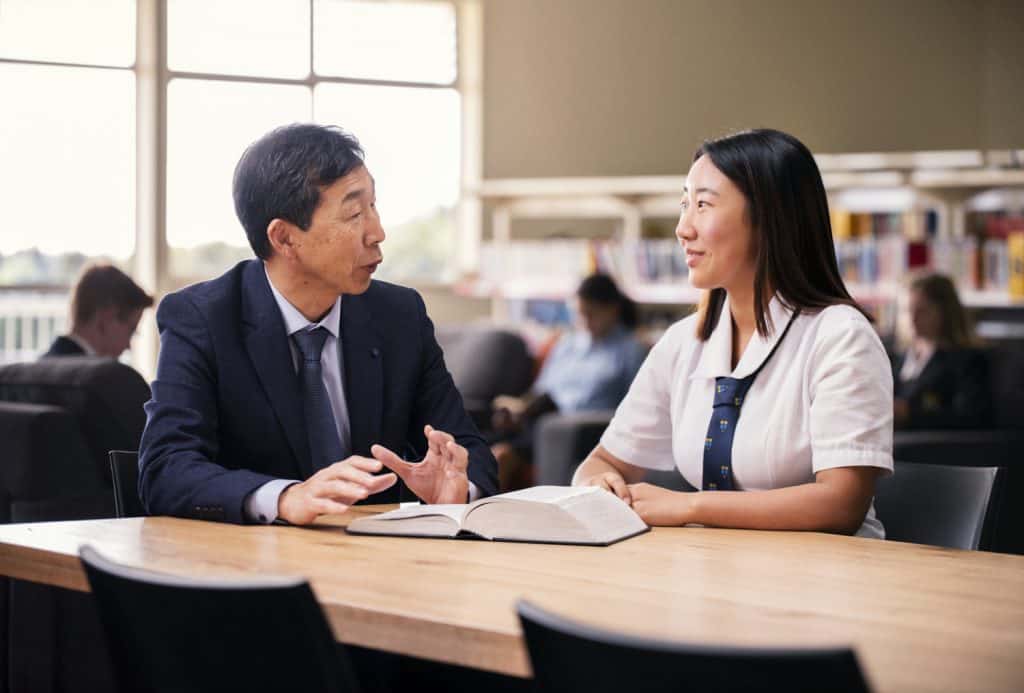 Care and support of the children in our care is important to us. We have committed to adding value to each child through the provision of programmes that are designed to support, nurture and enrich their lives. Our Pastoral Care Programmes and Career Pathways Faculty support our students on their academic journey.
The Education (Pastoral Care of International Students) Code of Practice sets out the standards of care that can be expected by international students.
International Students are well-supported on their academic journey at KingsWay School.  We offer a graduated English Programme that ensures students develop language acquisition.
ESOL (English to Speakers of Other Languages)
SLE (Second Language English)
ENC (Core English)
ENG (Mainstream English)
The Middle and Senior Schools are situated, on 10 acres of well-resourced facilities. The Primary School is within easy walking distance of the Senior Campus and recognized as an innovative, modern 21st Century learning environment. Our new purpose-built Junior Secondary campus was opened in 2021.
Other facilities include:
Newly built Primary School – a modern learning environment
Modern library and study areas
Conference rooms
Full-sized event centre
Fitness and weights studio
Robotics and technology suites
Drama and rehearsal rooms
Newly built music studio and tutorial suites
Large dance studios
Six fully equipped Science laboratories
Newly built hospitality suite with full commercial kitchen
Speciality art rooms
Large grass playing fields, tennis courts and astro-turf
Purpose-built adventure playgrounds
Kingsway School, PO Box 54, Red Beach, 0945
© KingsWay School. All Rights Reserved
© KingsWay School. All Rights Reserved