In the Middle Years at KingsWay School we understand that a successful school for young adolescents is an inviting, supportive, and safe place. We seek to be a joyful community that promotes in-depth learning and enhances students' physical and emotional well-being.  Relationships are paramount. We are committed to promoting the notion that students and staff belong to a community. As such, we seek to proactively eliminate negative social interactions and promote a sense of whanaungatanga.
Students celebrate the successes of their peers and support each other through challenges. Students are committing to a clean and inviting environment both inside and outside the classroom. The physical space promotes a growing independence and facilitates a seamless transition to the greater demands in the senior years. In Junior Secondary, our programme ensures all students maintain their academic and social progress.
At KingsWay School, staff serve as advocates, advisors and mentors for students. In the Middle Years the focus is on ensuring that teachers spend a significant proportion of time with students in order to develop relationships.
KingsWay School staff have an attitude of caring that translates into actions. Teachers model Christ-like character that aligns with the school's vision, while also making a conscious effort to know students well as individuals. The staff support each student's academic and personal development as well as being available to listen and guide them through the ups and downs of school life. We believe that two-way communication leads to higher student achievement. Staff initiate contact with caregivers and whānau to provide pertinent information about student progress and remain open to family dialogue.
Comprehensive guidance and support services meet the needs of young adolescents. The first port of call for guidance and support is the students' homeroom teacher.
The Middle Years at KingsWay provide learners with specialised professionals (counsellors, school nurses, teacher aides and career guidance) who are readily available to help students negotiate their lives both inside and outside of school.
These guidance services, combined with the expertise of classroom teachers assist students in developing structural support systems that set them up for life.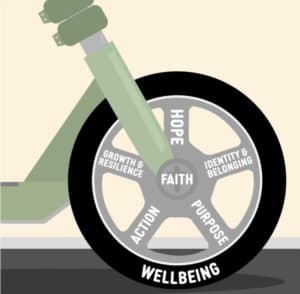 Health and wellness at KingsWay embrace the whole person (physically Taha Tinana, mentally and emotionally Taha Hinengaro, spiritually Taha Wairua, socially Taha Whanau). We want to see students thrive and be good self-managers who enhance their wellbeing. Having a faith in Jesus is their key driver to achieving this goal. Our aim is to educate, empower and engage our students in developing their identity and belonging, growth and resilience, and purpose in the world. Regular and consistent opportunities are given to action aspects of their wellbeing such as physical activity and challenges, a whanau programme, leadership, peer support and opportunities to take risks.
The school actively involves families in the education of emerging adolescents. It is important to acknowledge that education is not only the role of the teacher but is reliant on parent partnership.
This means in the Middle Years we encourage active parent/guardian participation on school trips, camps, coaching sports teams and presentation ceremonies. We aim to utilize our whole community by inviting family members with key skillsets to run workshops or small groups sessions to enhance our student's educational experience.
In order to keep parents/guardians informed we provide regular two-way communication between home and school in fortnightly emails. Family members are also invited to meetings and community nights, where information can be provided and feedback can be given around Junior Secondary changes and developments, particularly in the early stages.
The school includes community and business partnerships to enhance learning outcomes and enrich their educational experience.
This means in Junior Secondary school we seek appropriate partnerships with businesses, social services agencies and organisations, that align with our school vision. Opportunities include inviting members of local businesses, marae, churches and other community groups who possess key skills sets to run workshops or small groups sessions to enhance our student's educational experience. It also involves service-learning projects, work experience days and after-school programmes that use the community as a learning resource.
Kingsway School, PO Box 54, Red Beach, 0945
© KingsWay School. All Rights Reserved
© KingsWay School. All Rights Reserved